Cohabitation Nation: Does cohabitation affect children's rights and Parental Responsibility?
---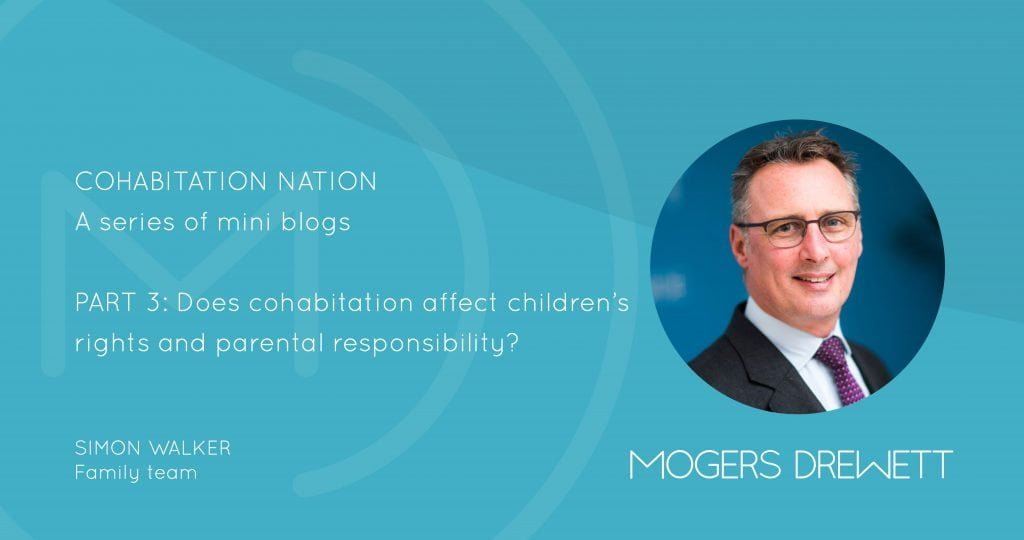 The concept of a 'common law spouse' is not recognised under English Law. This means that often people mistakenly believe that the law offers cohabitating couples protection, especially when they have been in a relationship for a number of years. However, the law treats married couples and cohabiting couples differently. It is important for cohabiting couples to understand the difference and, when starting a new relationship, to understand how to protect yourself. This week we will be exploring topics relating to cohabitation and dispelling a few myths surrounding common law marriage.
Today's article is by Family Solicitor Simon Walker, and addresses how cohabitation affects children's rights and Parental Responsibility.
The parents of the child will in most circumstances have Parental Responsibility for their children. If the parents separate or divorce their individual status in relation to their child does not change and as the natural parents of the children they will be expected to continue to work together to ensure the health and wellbeing of their children.
What changes is when the parties enter a new relationship. The new partner will initially have Parental Responsibility delegated to them by the parent he or she lives with. This is a limited Parental Responsibility and will enable the partner to care for the child. This is the same way as a babysitter is provided with Parental Responsibility when they oversee children for the night.
After a period (usually about 3 years) the relationship will develop between the child and the parent's partner, and it could be said that the partner then becomes a significant adult in the child's life. Whilst the partner's position can be elevated, the recognition of that elevation can only be achieved by an order, either granted by the court or by way of agreement of those that already have Parental Responsibility i.e. both parents. If an application is made to the court then permission is required by the partner and they will need to demonstrate to the court the child's attachment to them. They will also need to show that the application will not destabilise the child's life.
If the parent marries their partner, then the partner may obtain Parental Responsibility by an agreement or an order of the court. The application can be made by either the partner, or the child, if the child has the capacity to do so.
Whilst Parental Responsibility can be provided to a step-parent or partner it can also be removed. Parental Responsibility for parents can only be limited or removed by way of adoption of the child.
At Mogers Drewett we have a team of solicitors specialising in all types of family matters, including children's rights. If you have any questions or would like to discuss your situation, then please get in touch with our Family team on 0800 533 5349.