Mogers Drewett at the forefront of innovative robotics technology adoption
---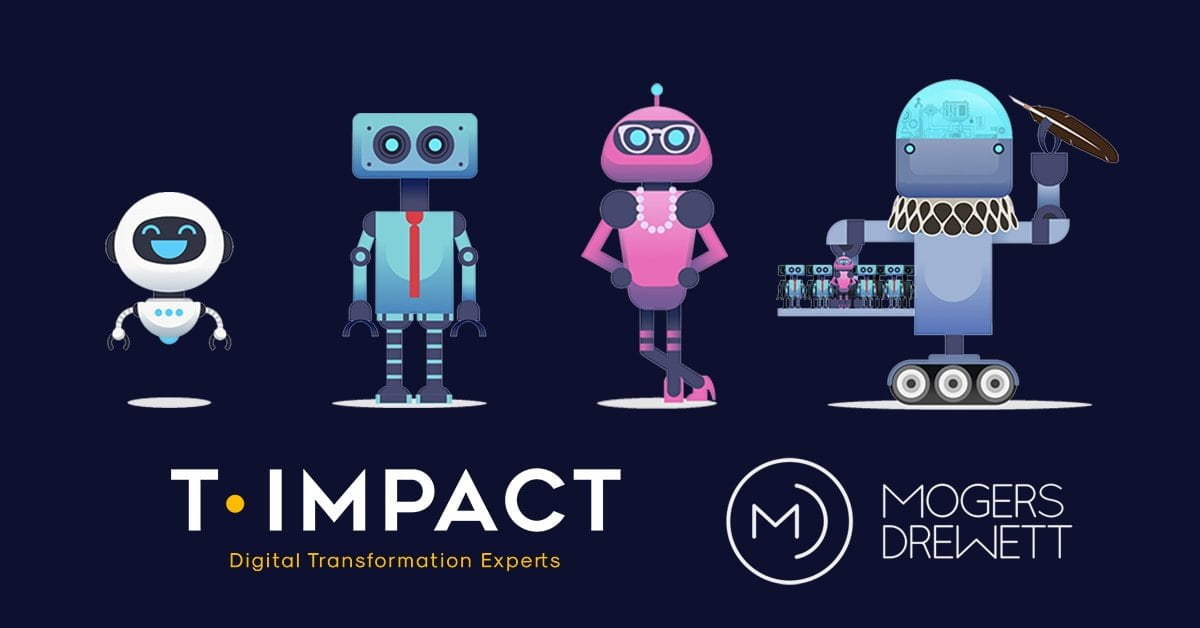 Mogers Drewett has welcomed a T-Impact robot to its team, putting the South West-based law firm at the forefront of innovative robotics technology adoption within the region. 
Passionate about the use of the latest technology in the legal sector, Steven Treharne, who led the project at Mogers Drewett said, "People's buying habits and expectations have changed in recent years, with the "Amazon Generation" seeking a more efficient service which is easy to use. The legal profession is one that has a reputation for being a little old fashioned and "stuffy", but the increasing consumer demands for efficiency and speed equally apply to the law sector too. We have turned to technology-based solutions and robotics to help us meet these demands whilst giving our legal experts more time to concentrate on their core business."
The T-Impact robot will support the firm with client onboarding, opening files and carrying out money laundering compliance checks. The robot will also populate the Mogers Drewett's practice management system to improve take on times and consistency of approach.
Like most firms, Mogers Drewett opens thousands of files a year manually – a process that is now automated by the robot. Along with reducing administrative tasks at the firm, the use of innovative robotics also optimises the data input process by removing the potential for human error.
Steven adds, "AI, robots and technology has already had a significant impact on the legal sector and successful firms will have to embrace this and interweave it into its service offerings. By introducing the robot into the firm, Mogers Drewett aims to steal a march on its competitors by offering a superior service to its clients that is more efficient and accurate."
Keith Stagner, T-Impact CEO, commented "T-Impact are proud to work with Mogers Drewett and support their vision and growth. We believe law firms must embrace technology such as AI and robotics to improve productivity and remain viable in this increasingly competitive market.
"Automating processes helps attract the best talent, enable competitive pricing and launch new technology enabled offerings. Mogers Drewett recognised these opportunities and actively engaged T-Impact to help develop capabilities many firms 10 times their size are struggling to implement. Working with Mogers Drewett has been an absolute pleasure and we look forward to many more successes."
T-Impact specialises in digital transformation using AI, Robotic Process Automation (RPA) and Business Process Management Suites (BPMS).  As UiPath's premiere UK partner, T-Impact is well placed to advise on the future of AI & robotics.
Learn more about the T-Impact robot and Mogers Drewett's experience in embracing the technology by clicking this link for a video, and here for a case study.