FAQs About Residential Conveyancing – How do I secure mortgage finance and how much can I borrow?
---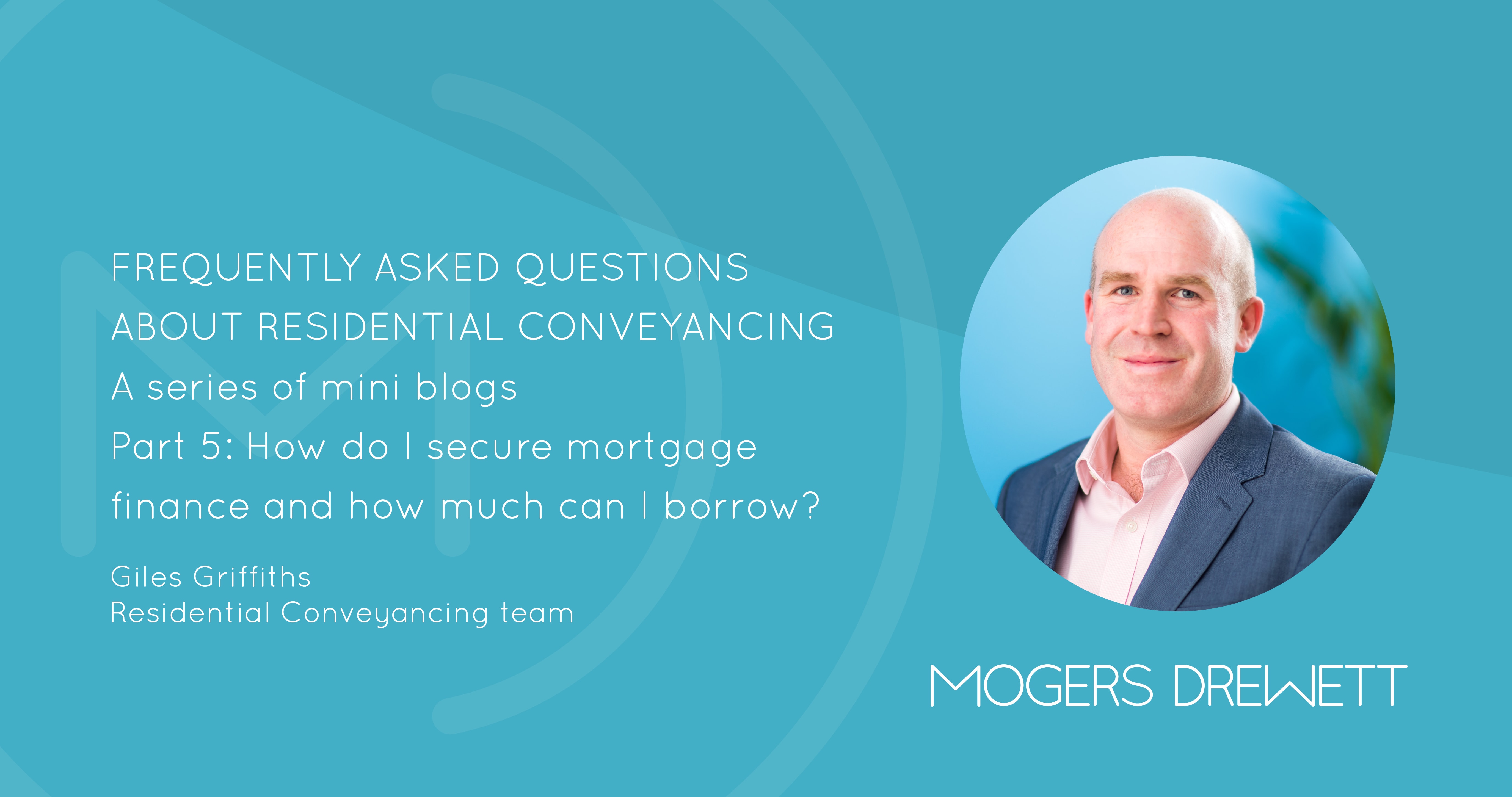 In this 5th mini blog from the Mogers Drewett Residential Conveyancing team, Giles Griffiths answers questions about obtaining a mortgage.
What is a mortgage?
A mortgage is a loan which is secured against your property.  If you do not keep up the repayments, the lender can repossess your property and sell it to get their money back.
How much you can borrow depends on your income and outgoings. When you apply for a mortgage, lenders calculate how much they will lend you. The more you spend each month, the less you can borrow.
If you are buying with someone else, both parties' incomes and outgoings will be taken into account.
Affordability
It is important to ensure that you can afford the mortgage and that it will not impact too much on your monthly budget.
In assessing affordability, you will need clarity as to:
How much your monthly payments will be
How an interest rate change could affect you
Other costs of running a home, such as council tax, insurance, bills and maintenance.
When you apply for a mortgage, be prepared to answer questions on affordability.
Monthly payments
The cost of your monthly payments will be determined by the amount you borrow, the interest rate that is applied to the loan and the number of years you have to pay the loan back.

You start paying your mortgage back from the day of completion.
Who do I speak to?
It is a good idea to start with your bank as their advice is free.  They will also know your personal circumstances and will be best placed to assess affordability.  However, they will only advise you about their own products so the range of products on offer will be limited and you may not get the best deal.
There is no harm in doing your own research – comparison websites and the weekend newspapers typically publish mortgage rates and league tables, so you can compare different rates and types of mortgages and start to assess which might be best for you.
You may also wish to speak with a mortgage adviser / mortgage broker, who are specialist advisers with in-depth knowledge of the market.  This may be particularly useful if you are self-employed or you receive income from a variety of sources.
All mortgage advisers, including your bank, must offer you advice when recommending the most suitable mortgage for you. This means you're protected and you can complain to the Financial Ombudsman, if you receive bad advice.
At Mogers Drewett we have a team of lawyers specialising in all different types of residential conveyancing transactions, including acting for clients buying a new home using mortgages.  No question will ever be a silly question – if you have any queries or want to discuss your options please contact us on 0800 533 5349.